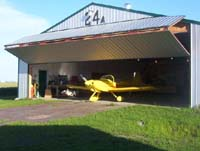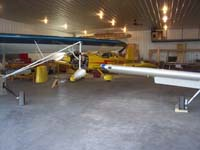 The Winnipeg Area Chapter of RAA provides a local focal point for those with a mutual interest in recreational aviation with a special emphasis on those constructing or operating amateur built aircraft. Monthly Chapter meetings, social outings, and other activities provide a forum for education, information sharing, builder support, and socializing to Chapter members.
Your interests may lie in amateur built aircraft, in the new advanced ultralight aircraft class, or with a factory built aircraft - and we probably know someone with similar interests. Some members have built all-metal aircraft capable of 200 mile per hour speeds, some have built agile aerobatic biplanes, and others prefer the more leisurely pace of ultralights.
If you have an interest in recreational aviation, or would like to know more about building an aircraft, we invite you to attend a monthly Chapter meeting and get to know us. During the winter, Chapter meetings are normally held on the third Thursday of each month at the Chapter workshop at Lyncrest airfield - however special meeting arrangments are often made so please confirm beforehand. Summer activities often take place at Lyncrest and other local recreational aviation airfields on weekends and are announced here and in the chapter newsletter.
The Chapter owns and operates Hangar 24A located at Lyncrest Airport to provide a facility for members to construct, assemble, and maintain their aircraft. Space is made available on a short term basis with priority given to projects in the final assembly and inspection stages. Typically three to four aircraft can be accomodated with heating costs shared during the winter months. Please contact the Chapter Executive for space availability and current rates.
Contact Jim Oke or raa@mts.net for more information about the Chapter and Chapter meetings.
About RAAC .....
The Recreational Aircraft Association of Canada is a volunteer, non-profit organization dedicated to the advancement of recreational aviation in Canada. Its membership is made up of a broad spectrum of enthusiasts with various interests in aviation and flight technology.
Since its inception over 35 years ago as the Ultralight Aircraft Association of Canada, the RAA has been active in assisting its members to build, maintain, and fly recreational aircraft. With a network of over 50 chapters coast to coast, the Association provides technical information and assistance to owners and builders, amateur built aircraft inspections, aircraft insurance, and camaraderie with fellow members.
Visit the RAAC National Webpage for further information.